Puella Mendenhall Powell
by T. J. (Powell) Hyatt
with the help of Larry J. Powell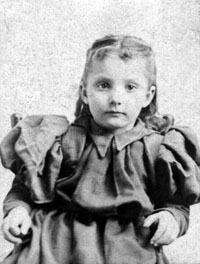 Puella Leone "Ella" "Pude" Mendenhall was born August 22, 1869 in Plainfield, Hendricks County Indiana, the daughter of Alson G.Mendenhall and Mary A. Ward. She was short, stout, and very pretty - having very light colored eyes (family stories have her eyes as green). A brother once said she was the prettiest of his 8 sisters.

"Ella" is listed as Puella Powell for genealogical consistancy, however she had this name more briefly than other names. Puella L. Mendenhall was married three times. The first marriage was to John Lindsay Powell (b. 1868/1869 Missori - d. 6/13/1897 Boone County Indiana) on 2/11/1886 in Boone County Indiana John was the son of Edmund Powell and Kessiah Jolly. A lot of time and over 100 letters have failed to uncover much concerning John. He died at the age of 28 from a kidney abscess.

She had two children during this marriage - Caskus (b. 9/17/1886 Boone County Indiana -d. ca 1899 as a child) and Ernest (b. 4/18/1889 - d. 8/22/1963), my great grandfather. Shortly after John Powell's death, she married James Fancher and later an Osborn(e). She had no more children.

After the death of her first husband, Ella moved between Indiana and Michigan several times. Circa 1908, she and Jim Fancher returned to Indiana to live with a younger sister - "Lu" Wire and her large family. Jim and Ella were broke except for a Maxwell automobile which made them rich in some eyes as cars were so rare. The Fanchers invariably got back on their feet by holding "revivals" for groups of new contributors. Back to Michigan and back to their small farm between Seymour and Reddington, Indiana they went, but now with a new Model T.

Her family nickname since birth gives us some insight. Although the Mendenhalls were historically very religious, "Pude" was not until after her second marriage. She became an ordained minister like her husband, Jim Fancher (believed to be Wesleyan Presbyterian).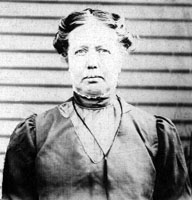 The following comes from two sources - a niece and a niece-in-law - who did not know each other: "Pude" became very vocal about her strong convictions against dancing, belonging to lodges, and drinking alcohol. Within the large Mendenhall family, those who agreed with her pronounced her nickname "Pud"; those who didn't pronounced it "Pude" so it rhymed with prude and crude.
Upon Jim's death, she soon married a well-to-do farmer, Daniel Osborn(e). With this marriage, money was no longer a problem. Ella was extremely neat and organized throughout her life. A few days before her death, she took the clothes and jewelry she wanted to be buried in to the funeral home with very specific instructions. She died on Jan. 6, 1944 in Westfield, Hamilton County,Indiana, and is buried at Summit Lawn Cemetary in Westfield, Indiana.
With her death, her son Ernest inherted both her farm and Daniel Osborne's. However, he soon succeeded in "frittering" away both farms and any money that came to him.
---
[ MFA Documents Index ] [ Mendenhall Family Documents ] [ MFA home page ]
8 February 1998
Puella Mendenhall Powell
http://members.tripod.com/~MFADocuments/Puella.html
Please send comments or suggestions to: Mendenhall Family Documents Committee.