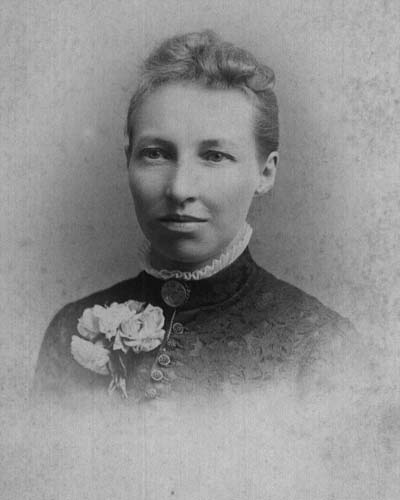 Lelia Mendenhall Barton 1889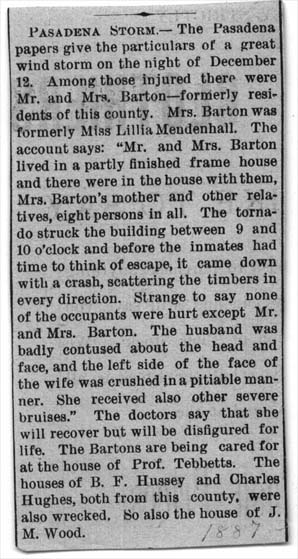 Lelia Mendenhall Barton 1889 photo and newspaper clipping 1887
I have a photo of Lelia (Mendenhall) BARTON who had lived in IA probably in Mahaska Co. As a young woman she had moved to Pasadena, Los Angeles Co., California; at least she was there by 1887. She was a friend of the family of my gr. grandparents. They were Joel Thomas and Sarah Elizabeth (Boswell) THORNBURGH who lived in Oskaloosa, IA. In 1887 when the BARTONS were in the process of building their house in Pasadena, it was hit by a tornado and the following is an account of the storm from a newspaper clipping published in IA paper that I have scanned and pasted to the back of the photo of Mrs. BARTON. The parentheses in the text below are mine for clarity. Attached is a J-Peg file of photo and of newsclipping and transcript and my comment is included below.
"PASADENA STORM --The Pasadena papers give the particulars of a great wind storm on the night of December 12, (1887). Among those injured there were Mr. and Mrs. Barton--former residents of this county (prob. Mahaska). Mrs. Barton was formerly Miss Lillia Mendenhall. The account says 'Mr. and Mrs. Barton lived in a partly finished frame house and there were in the house with them, Mrs. Barton's mother and other relatives, eight persons in all. The tornado struck the building between 9 and 10 o'clock and before the inmates had time to think of escape, it came down with a crash, scattering the timbers in every direction. Strange to say none of the occupants were hurt except Mr. and Mrs. Barton. The husband was badly contused about the head and face, and the left side of the face of the wife was crushed in a pitiable manner. She received also other severe bruises.' The doctors say that she will recover but will be disfigured for life. The Bartons are being cared for at the house of Prof. Tebbetts. The houses of B. F. Hussey and Charles Hughes, both from this count were also wrecked. So also the house of J. M. Wood."
I am happy to report that my great grandparents received the photograph of Lelia Barton dated 1889, two years after the incident and she looks lovely.
On the back she wrote "North Pasadena, California, Aug. 21, 1889. Tis Me."
Shera Thompson minoucha@email.msn.com